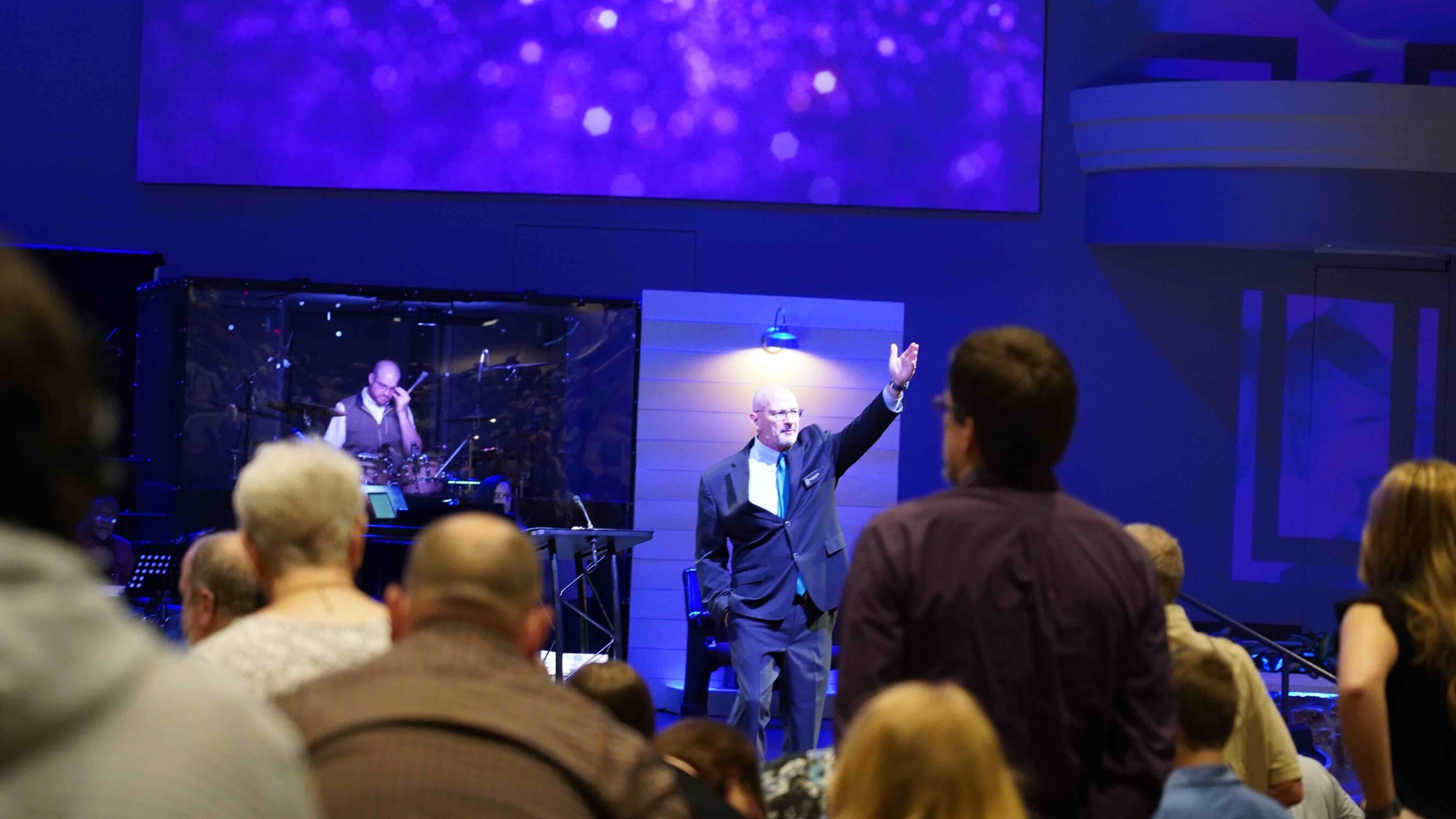 Our Church History
FBC started as The First Southern Baptist Church of Flint, Texas in 1907. With the help of Reverend Daniels, the county missionary at the time, the small group of charter members were able to organize the church and acquire a building by 1908. As God continued to work through the church, the need for expansion grew. By 1983, the church had expanded its campus four times, and in 1996, God called Reverend Sam DeVille to pastor. Since then, the church has grown significantly in its impact and its numbers. We expanded our building again in 2007and 2010, and God continued to grow the church each time. A new worship center was completed in 2018, where we now host an average of 1800 attendees each Sunday. We are so honored and humbled by the work God has done through our church over the years, and we are proud to be one of the fastest growing churches in East Texas!
Our Message
We are a community of people committed to following Jesus, so we worship Him with vigor and joy. We recognize the importance of prayer, so we encourage it in church and in our daily lives. We are dedicated to spreading the Kingdom of God, so we love people within our community and beyond with the generosity and compassion of Christ.
There is only one true God. He is the Creator of all things and the Redeemer, Preserver, and Ruler of the universe. He is ever-present, all-knowing, and all-powerful. He reveals Himself to us as Father, Son, and Holy Spirit, a divine trinity with distinct personal attributes, but without division of nature, essence, or being.
Genesis 1:1-2,26; Deuteronomy 6:4; Ephesians 4:6
God, the Father reigns with providential care over His universe, His creatures, and the flow of the stream of human history according to the purposes of His grace. He is all powerful, all knowing, all loving, and all wise. God is Father in truth to those who become children of God through faith in Jesus Christ. He is fatherly in His attitude toward all men.
2 Corinthians 6:18; Revelation 21:3
God, the Son is the One Mediator for the reconciliation of all humankind. He always is, always was, and always will be God, but he came to this earth in the form of a man named Jesus. He was conceived of the Holy Spirit and born of the virgin Mary. Jesus revealed and perfectly followed the will of God, living a life without sin. In his obedience, he died on a cross to provide redemption for us all, and he rose to life again three days later. He ascended into heaven and sits at the right hand of God and will return one day in power and glory for the final reconciliation and judgement of the world.
John 1:1-2, 14,18; 3:16; Luke 1:35, 19:10; Matthew 1:18-21
God, the Holy Spirit is sent forth from the Father to indwell the saints, to be their counselor and comforter, to empower them for service, and to seal them to Himself. His work is to convict the world of sin, of righteousness and of judgment. He bestows spiritual gifts upon the believers for the perfecting of the saints.
John 16:5-16; Acts 1:8; Ephesians 1:13-14; 4:7-14
The Holy Bible is the perfect and unchanging Word of God, comprised of the Old and New Testaments. Through the hand of divinely-inspired men over many thousands of years, God revealed himself to mankind through His Word. Through descriptive passages, we can learn the history of God's people and the work He has done and will do through them. Through prescriptive passages, we can learn the instruction and teaching that God would have us follow. All Scripture is a testimony to Jesus Christ, who is Himself the focus of divine revelation.
2 Timothy 3:16-17; 2 Peter 1:20-21; Galatians 1:11-12; 1 Peter 1:10-12; Luke 24:44
The Church is the family of believers and followers of God, both within local areas and communities and throughout the world. God created the Church and called His people to live in committed community as a diverse family, loving and serving one another, helping each other grow in our faith and as devoted followers of Christ, meeting one another's needs, giving grace and forgiveness and love, and in doing so will reveal to the world God's plan for restoring goodness and reconciling people to Himself, and to one another.
John 4:23-24; Hebrews 10:25,;John 13:14; 1 Peter 4:10; John 21:15-17; 1 Corinthians 11:23-25
Because of Sin, all humankind is separated from a relationship with God. Because we are lost, we are in need of a Savior. Through the sacrifice of Jesus Christ and the shedding of his blood on the cross, we are provided a means of forgiveness. Salvation is a gift entirely by the grace of God. Through repentance and faith in His death and resurrection, we have a living hope.
1 John 1:7-9; 5:10-13; Hebrews 10:5-25; Revelation 1:5-6; 5:9-10
Sin is that which is contrary to the will and way of God. It is lawlessness and unrighteousness that leads to blindness and death. Mankind was created in the image of God without sin. He voluntarily fell from this sinless state and we are alienated from God, resulting in physical and spiritual death. Everyone is in need of the saving grace of God, Jesus' death and resurrection, applied to their lives.
Genesis 2:7; 3:1-19; Psalm 14:1-3; Jeremiah 17:9; Romans 3:23; 6:23; Revelation 20:11-15
The Devil is the enemy of God and, by extension, the enemy and opponent of those who follow God. He was once an angel named Lucifer, but he chose to rebel against the Lord, and many other angels followed his rebellion. Although everything God created was good, the devil seeks to corrupt and destroy all that he can. Through his temptation in the Garden of Eden, mankind fell into sin. He promotes false doctrines and craftily seeks to keep unbelievers in spiritual bondage.
Genesis 1:31, Isaiah 14:12-17, Romans 5:12, John 8:44, 2 Corinthians 4:4,1 Peter 5:8