Our Schedule
The Flint Kids Ministry is here to help parents build a spiritual foundation for your child that will last a lifetime. We want to help them grow in their faith and knowledge in Christ, and also place them on a path to becoming leaders in the body of Christ.
Sunday
9:00a – Nursery, Children's Church PreK-3rd Grade & Next Level

10:30a – Nursery & Sunday School

PreK-6th Grade
Wednesday
6:00p – Bible Drill 1st-6th Grade &

Kids Praise PreK-6th Grade

7:00p – Missions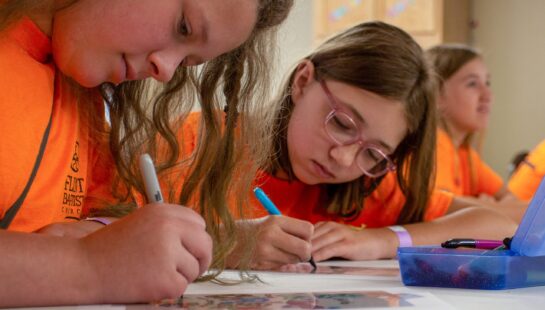 Our Heart
Develop children as Christ-followers and teach them to share their faith
Develop children as worshippers
Develop children as prayer warriors
Teach children to make wise choices according to Scripture
Support families with fun, creative ways to enhance each child's spiritual journey
Help parents lead their child to Christ
Our Sunday Ministries
Sunday School Birth-Kinder
Biblical truths are taught on an age-appropriate level with activities, crafts and scripture as they learn, to grow spiritually. PreK must be 4 by Sept 1.
Sunday School 1st-6th Grade
Students meet weekly for small group lessons from Generations of Grace. Designed to magnify God by studying His character in the pages of Scripture, kids can better understand who He is and how we are to respond to Him by studying how His redemptive plan unfolded and how He has used people to accomplish His purposes.
Next Level
This class is designed to help 1st-6th grade children who might be questioning a relationship with Jesus Christ, as well as new believers. This special class uses Lifeway's resource, I'm A Christian Now.
Kids Konnect – PreK/Kinder
Because preschoolers like to keep moving, we rotate in groups through Bible story, music, crafts and activities. PreK must be 4 by Sept 1.
Elevate Kids – 1st-3rd Grade
Large group worship, teaching and small groups provide Biblical principles that can be applied to a child's everyday life.
Our Wednesday Ministries
Kids Praise
A Music Program for PreK-6th Grade. Kids Praise seeks to teach children a love of worshiping God, providing a joyful time singing and performing for an audience of one – GOD. Christmas and Spring concerts are presented each year.
Bible Drill
A Southern Baptist Convention program involving children, youth and high school students in systemic memorization and location of certain scriptures. Younger grades of 1st-3rd develop skills and gain understanding while learning to navigate the Bible. Older grades of 4th-6th prepare for competitions in the Spring of each year at church, association, and regional/state levels.
Mission Classes
Learn about local and worldwide missionaries through hands-on activities, Bible and mission stories, and ways you can help others!
Mission Friends – PreK/Kinder (4yrs by Sept 1)
Girls in Action – 1st-6th Grade Girls
Royal Ambassadors – 1st-6th Grade Boys